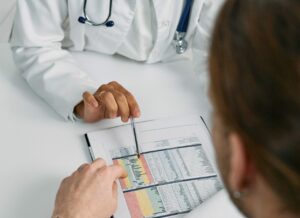 Our client suffers from scoliosis that was not timely diagnosed by her pediatrician, who we say did not properly perform evaluations and follow-up treatment for this condition during our client's regular check-ups. We requested our client's medical chart from the pediatrician's office, but we were provided limited documentation with few details concerning spinal examinations that the pediatrician alleges took place. Detailed record requests and depositions of the pediatrician and his office's record keeper, taken by our firm's Medical Malpractice Trial Attorney CaraMia R. Hart, revealed that the pediatrician failed to maintain the original medical chart for our client. The pediatrician had only produced an apparent copy of the chart possessed by an office that subsequently treated our client, and the pediatrician was unable to confirm that this was a complete copy of his original records, or contained all of the test results that normally would be contained within the chart. Persistent questioning of the issue by Ms. Hart ultimately forced the pediatrician's counsel to admit that the original medical chart was lost and could not be found.
Given these events, our firm, by a motion drafted by Appellate Attorney Benjamin P. Jacobs, sought sanctions from the Court for the pediatrician's failure to preserve the original medical chart. Under New York law, parties have an obligation to preserve relevant documents once it becomes apparent that litigation is a possibility. We demonstrated that, as a health care provider, our client's pediatrician was bound to preserve medical records for at least six years, and in fact had to preserve the records even longer because our client was a minor (under the age of 18). As a result, our client's pediatrician was bound to maintain the records until well after the litigation commenced. A failure to comply with this law, whether willfully or through negligence, can be sanctionable.
Although the motion was aggressively opposed by the pediatrician's counsel, on April 21, 2021, Judge Edward McLoughlin ruled in our client's favor. Judge McLoughlin agreed that the failure to preserve the chart created an unfair advantage for the pediatrician, and ordered that at trial an "adverse inference" instruction shall be given to the jury.  This means that at trial the jury will be instructed that the pediatrician negligently failed to preserve the original chart, and that the jury is permitted to conclude that if the original chart had been preserved, it would have supported our client's case and/or undermined the pediatrician's defenses.  As a general matter, an adverse inference instruction is a very valuable advantage to have at trial, and one that is often challenging to obtain. In this particular instance, our dedicated team successfully transformed a potential weakness in our client's case (the absence of the original medical chart) into a strength as we prepare for trial.
Case Information
CHRISTINA ABADSIDIS-RINALDI, as Mother and Natural Guardian of C.A., an infant, and CHRISTINA ABADSIDIS-RINALDI, Individually, v. RADHAS S. BISWAS, M.D. and POUGHKEEPSIE PEDIATRICS
Index No.: 51330/2019
Dutchess County Supreme Court