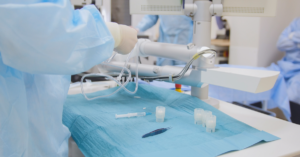 The True Tale:
Unfortunately, some of life's roads lead to tragedy. As humans, we have no explanation although many theories abound. Somehow, despair has its own distinct formula in replacing joy, and oftentimes, this happens with little warning. When that occurs, most mortals pray as devoted believers in the deity. Others live with the hope that in the end, everything will turn out right—all of which takes me to a most heart-breaking story…
I'll name her Baby Mary. She was born with a cleft palate, a not too uncommon condition in which the palate in utero does not form properly during the early stages of pregnancy.  The cause is not scientifically established, with more than 200,000 cases each year in the United States alone. Simply stated, a cleft palate is a birth condition that leaves an opening in the roof of the newborn's mouth.
Or, it may leave an opening in both the lip as well as the roof. Baby Mary was a beautiful one-year-old born with both conditions. It was a disorder that if untreated, could result in feeding, speech, and other serious problems. A surgical repair within 18 months of birth is usually successful and should always be sought.
Within the appropriate window, Baby Mary was admitted into a local hospital where a highly-trained pediatric surgeon performed the cleft palate surgery consistent with appropriate surgical standards. The operation was a success, and the happy parents were relieved that all went so well in the operating room. Following surgery, the inside of Baby Mary's mouth was packed with gauze to absorb the bleeding expected from such a procedure. This is the tragic sequence of events that followed…
Unbeknown to the nursing staff, one of the pieces of gauze freed itself from the wound site and began to migrate downward toward Baby Mary's windpipe. Sometime later, the baby went into cardiac arrest, as the gauze pad significantly blocked air and oxygen from passing through. When this catastrophe was discovered, the code was immediately sounded as doctors and staff rushed in and quickly removed the gauze blocking the baby's windpipe. They were able to revive Baby Mary, but the absence of oxygen to the brain for an extended period had already caused permanent brain damage.
Although spared from death, Baby Mary would suffer severe disability for the rest of her life. The devastation to her young parents was without measure. As trial lawyers, we navigated the medical malpractice case through the court system resulting in a huge settlement, but no dollar amount could ever restore beautiful Baby Mary to a life of quality—one that was ripped away so unexpectedly. Thus began a journey on a road filled with sadness, and one Baby Mary and her parents did not deserve. Again, as in so many disasters throughout society, tragedy replaced joy, as empathetic and compassionate human beings watch and wonder why.  End of story!
At Finz & Finz, P.C., we help those who tragically suffer from medical malpractice. Although an attorney cannot undo a medical mistake, our firm's primary objective is to alleviate the financial burdens of past and future medical care and provide a sense of justice to those who have suffered due to the negligence of a medical professional.
The Message:
"AN INSTANT DISASTEROUS EVENT CAN REMOVE A LIFE OF JOY AND LEAD TO ONE OF SADNESS AND TEARS"
Leonard L. Finz, age 96, is a decorated WWII veteran (1st Lt., Field Artillery, Philippines), a former New York State Supreme Court Justice, Peer-Reviewed as "One of America's Preeminent Lawyers", and the Founder of Finz & Finz, P.C.
About the Author
Latest Posts
Leonard L. Finz founded the firm in 1984. He is a former New York State Supreme Court Justice and a top-ranked trial lawyer with the highest ratings for legal ability and ethics, having earned a reputation as a master trial advocate in the courtroom. He has achieved the highest legal rating of "Preeminence" in addition to being peer-reviewed as "One of America's Preeminent Lawyers."