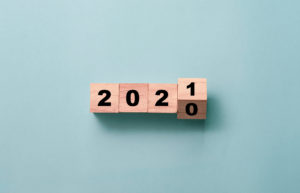 This has been a year of despair. The number of Coronavirus victims continues to rise at an alarming rate. And deaths are not far behind. The vicious Covid-19 armies have stricken without regard to poverty or wealth, or color of skin, or religious beliefs. Its invaders have attacked left-wing radicals, right-wing extremists, and every political stripe in between. It has wreaked hardship without conscience or shame. It is an enemy that has destroyed the weak, the strong, the young, the old, the sick, the healthy. Its sole goal was and is to strike down anyone in its ruthless path. It was and is a cruel, insidious, and brutal force that in 2020 has already damaged the lives of millions of Americans and produced the death of more than 330,000 loved ones in our land of such promise. That's the devastating legacy it leaves behind.
But in 2021, help is on the way! Vaccines have been formulated, thanks to the mastery of the finest scientists on this planet. Faced with an almost impossible challenge, they have climbed the highest peaks of Everest. But we are still left with a dangerous course: the life-saving vaccines will not be available to the average public for many months yet to come. And that means more sickness with the corresponding loss of life. But at least, the storm will eventually pass. The sun will break through. All of which reminds me of another pandemic that devastated our country, and the world, exactly 100 years ago. It was the Spanish Flu that brought death to millions throughout the world, and counted 675,000 deaths in the United States as well.
I recall an almost forgotten song composed by the great Jerome Kern and Buddy DeSylva. It was scripted and released exactly 100 years ago in the height of one of the worst pandemics of its time. The lyrics are inspirational and bear repetition of the first stanza as a reflection of faith and inspiration…
"Look for the silver lining
Whenever a cloud appears in the blue
Remember, somewhere the sun is shining
And so the right thing to do is make it shine for you…"
So let us now, in the new year 2021, look for that silver lining. It will soon be there! Let's have faith! We all have suffered enough. Gladly, it will soon be time to relive, revel, and rejoice – but never forgetting those we lost!
The Message:
"OUR FUTURE WILL BE NOT OF DARKNESS, BUT OF HOPE!"
Leonard L. Finz, age 96, is a decorated WWII veteran (1st Lt., Field Artillery, Philippines), a former New York State Supreme Court Justice, Peer-Reviewed as "One of America's Preeminent Lawyers", and the Founder of Finz & Finz, P.C.
About the Author
Latest Posts
Leonard L. Finz founded the firm in 1984. He is a former New York State Supreme Court Justice and a top-ranked trial lawyer with the highest ratings for legal ability and ethics, having earned a reputation as a master trial advocate in the courtroom. He has achieved the highest legal rating of "Preeminence" in addition to being peer-reviewed as "One of America's Preeminent Lawyers."