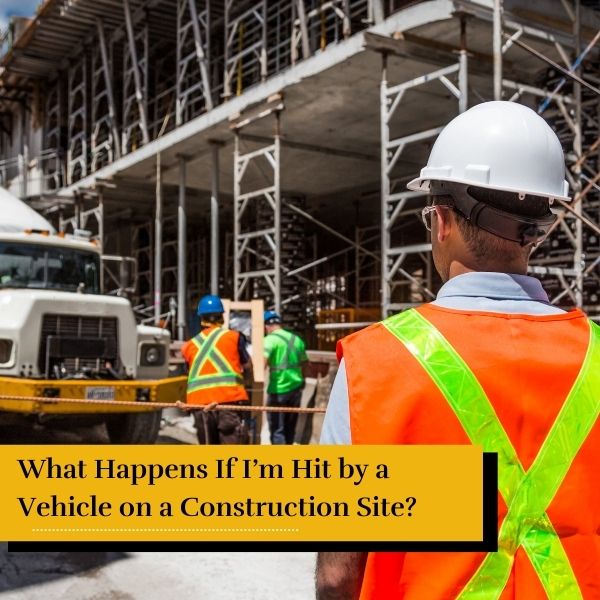 Were you injured in a traffic accident at a construction site in New York? Construction zones are busy and dangerous locations, full of moving people and equipment. Construction workers routinely do their jobs within feet of passing vehicles, so even a momentary lapse in a driver's concentration can have devastating consequences. 
However, if you were injured by another party's negligent or careless behavior, you could be entitled to substantial compensation for your losses. Read on to learn more about what happens if you get hit by a vehicle on a construction site and how Finz & Finz, P.C. can help. Contact us now to get started with your free initial case review.
What Should I Do After a Work Zone Accident in NY?
If you have been injured in a car accident at a construction site in NY, you may be overwhelmed with painful symptoms and wondering what to do next. Fortunately, there are simple steps you can take to protect your rights and establish your injury claim:
Seek prompt medical attention to ensure your injuries are diagnosed, treated, and included in your official medical record

Follow your doctor's care plan to support your body's natural healing process and demonstrate to any interested parties that you are taking your health seriously

Gather evidence from the accident scene, including photos of the wreckage, contact and insurance details from the driver, and statements from eyewitnesses

Hang on to your medical bills, bank records, pay stubs, repair estimates, and any other documentation of your crash-related injuries, expenses, and losses

Create a "pain journal" to write down observations about the pain levels and physical limitations you experience as a result of the crash in your daily life

Watch what you say to the other driver, the insurance company, or any other third parties after the accident, as anything you say could be used against you

Avoid sharing any information or photos online while your claim is pending

Contact a knowledgeable construction site car accident lawyer in New York
Work Zone Safety Awareness in New York
In a single recent year, there were more than 200 work zone crashes in New York, injuring four dozen motorists, contractors, and state employees. In response to this disturbing trend, the state recently launched a Work Zone Safety Awareness campaign to encourage safe driving practices and reduce accidents in construction and work zones. 
As part of this work zone safety campaign, the State of New York issued the following key reminders to motorists:
Know the signs

 – As a driver, you must be able to recognize and respond appropriately to the 

official warning signs

 in and around construction zones. These signs are distinctive, orange-and-black diamond shapes that serve as alerts for things like imminent merges, lane shifts, and flag bearers stopping traffic. Any time you approach one of these signs while driving, be prepared to stay alert and drive as carefully as possible throughout the work zone.

Slow down – 

Most construction zones near public roads have reduced speed limits, typically specified by prominent warning signs in and around the zone. These speed limits are in place to keep you, the construction crew, and everyone else nearby safe. Be sure to slow down as you approach any construction zone and take care to keep your driving speed under the limit. Speeding fines are usually doubled in work zones, and the consequences of a construction site car accident can be much worse than even the steepest fine.

Move over – 

Finally, as long as it is safe to do so, you are required to move over to another lane to provide space for vehicles with red, white, blue, amber, or green lights that are stopped along the side of the road. Most motorists are accustomed to moving over for police cars, ambulances, and other emergency vehicles, but it is important to remember that you should also pull over for highway construction and maintenance vehicles whenever possible. 
When motorists fail or refuse to adhere to these basic principles of work zone safety, accidents can and do occur. A knowledgeable attorney can help you by identifying possible violations of work zone safety laws and holding negligent parties accountable.
How Much Compensation Can I Get for a Work Zone Crash Injury Case?
The types and amounts of compensation you could be owed for your construction site car accident injuries can vary significantly depending on the circumstances. For instance, if you were injured while on the job at the construction site, you could be entitled to compensation from an employer's workers' comp insurance policy. And if you were injured by a negligent driver, you could be entitled to compensation from their liability insurance policy. 
Whatever the case, a dedicated construction site car crash lawyer can explore all possible sources of compensation to maximize your settlement value. With a successful injury claim, you could be entitled to compensation for the following:
Hospital bills and other medical expenses you incur for your crash injuries

Incidental costs, such as mileage expenses for travel to medical appointments

Lost wages and benefits, if you were forced to miss time at work while recovering

Projected future losses, such as lost earning capacity or future medical needs

Subjective losses, such as pain, suffering, and lost quality of life from the wreck
How Can a Car Accident Injury Lawyer in NY Help Me?
When you work with the top-rated NY injury lawyers of Finz & Finz, P.C., you can count on us to help you by:
Explaining your rights and evaluating your legal options

Determining the potential value of your case

Conducting an independent investigation into the accident

Communicating with site owners and other parties on your behalf

Obtaining medical records, accident reports, and other useful evidence

Interviewing eyewitnesses and experts for valuable testimony

Managing important case documents and deadlines on your behalf

Filing insurance claims to demand the compensation you are owed

Taking your case to court, if the insurance company refuses to pay

Representing you at trial and all the way through to appeal, if necessary
Contact Finz & Finz, P.C. Today
If you were injured in a New York construction site accident, you can take control of your situation today by seeking help from the knowledgeable attorneys of Finz & Finz, P.C. Contact our nationally recognized NY injury lawyers to discuss the details of your case for free in a zero-obligation consultation session.