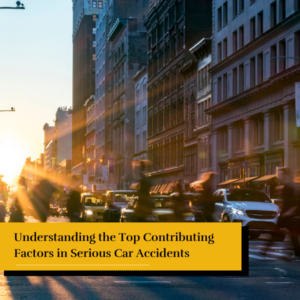 Car accidents happen for numerous reasons, from common distractions to bizarre, out-of-the-ordinary circumstances. However, in New York City, local law enforcement sees some of the same contributing factors in significant car accidents time and time again.
At Finz & Finz, P.C., we want to help you understand the top contributing factors in severe New York car accidents. Our legal team believes that you can better protect yourself and your family when you understand what factors contribute to car accidents.
Top Contributing Factors in Serious Car Accidents
What contributes to causing severe New York car accidents? Distracted driving? Drunk driving? When compiling reports and statistics, the New York City Police Department recognizes the top contributing factors in collisions resulting in injury and fatal collisions includes:
Aggressive driving/road rage
Alcohol involvement
Backing unsafely
Cell phone use (hand-held)
Driver inattention/distraction
Driver inexperience
Drugs (illegal)
Err/confusion (pedestrians and bikes)
Failure to keep right
Failure to yield right-of-way
Fatigue/drowsy driving
Fell asleep
Following too closely
Illness
Lost consciousness
Other uninvolved vehicle
Outside car distraction
Passenger distraction
Passing or lane usage (improper)
Passing too closely
Physical disability
Prescription medication
Traffic control disregarded
Turning improperly
Unsafe lane changing
Unsafe speed
Using an onboard navigation device
Vehicle vandalism
Categorizing the top contributing factors involved in New York car accidents helps authorities manage city-wide accident statistics and pinpoint potential problems they need to address through education and outreach. However, closely examining these factors can also help you understand how to protect yourself from careless drivers, potentially preventing an accident from occurring.
Common Causes of New York Car Accidents
Examining the data from the New York City Police Department, you can see a pattern emerge. Although the department recognizes at least 28 contributing car accident factors, some factors are more likely to cause an accident than others. For example, in just one month, the New York City Police Department recorded 2532 accidents caused by distracted driving. Some estimates rank New York as the ninth-worst state in the county for distracted driving accidents, accounting for 12 percent of the state's fatal crashes.
Data indicates following too closely is also a top contributing factor to numerous car accidents throughout the city, followed by failure to yield the right-of-way and passing too closely. The most common causes of New York car accidents, as indicated by police data, include:
Driver inattention
Following too closely
Failure to yield the right-of-way
Improper passing and lane usage
Unsafe speed
Notice how the most common causes of accidents in the city are all due to completely preventable, careless driving and unsafe driving behaviors.
Injuries Common in Serious New York Car Accidents
The injuries a person can suffer because of a car accident can be as varied as the circumstances of the accident itself. The only consistency across New York car accidents is the physical pain and financial instability that a car accident can cause. Some of the most common injuries associated with car accidents include:
Amputations
Broken bones
Burns
Contusions
Facial and dental injuries
Lacerations
Neck and back injuries
Internal bleeding
Internal injuries
Paralysis
Soft tissue damage
Spinal cord injuries
Traumatic brain injury
Some injuries may take weeks to recover from, while others can leave a person struggling physically and mentally for years.
Compensation Following a New York Car Accident
Has a careless driver injured you? You may be entitled to compensation for your injuries and financial losses. However, recovering the money you deserve is not always a straightforward process. An attorney can be instrumental in helping you evaluate your legal options for pursuing maximum compensation following a car accident with a careless individual.
While most individuals know that they may be able to seek money for their medical expenses, it can take time to calculate what the medical portion of your claim is worth. What if you need continuing medical care or rehabilitation? Do you deserve money for your lost wages or emotional distress? Although the value of each car accident case varies due to numerous factors, generally, car accident victims can pursue money for the following:
Medical expenses
Loss of consortium
Loss of earning capacity
Lost quality of life
Lost wages
Pain and suffering
Property damage
An experienced New York car accident attorney has the knowledge and resources to help you recover the money you need to move forward with your life following an accident.
Statute of Limitations on Car Accident Cases in New York
Pursuing compensation through a personal injury lawsuit can be intimidating and overwhelming. Although you want to take time to review your options thoroughly, New York limits the time you have to file a lawsuit. Under New York law, you have three years from the accident date to file a lawsuit. Filing after the deadline passes can result in your case's dismissal, giving you few to no options for recovering maximum compensation.
Consulting with an attorney soon after the accident and early in the process of pursuing compensation gives you an advantage. Your attorney can manage your vital legal deadlines, leaving you free to focus on your recovery. Involving an attorney immediately also allows your lawyer to collect vital evidence before it can be lost, forgotten, or destroyed. This places your case in a stronger position if your attorney can't reach an appropriate settlement agreement with the insurance company, and you must go to court with a personal injury lawsuit to get the money you're owed.
Talk to a Skilled New York Car Accident Attorney Today
Avoiding engaging in actions that are top contributing factors to severe New York car accidents can help protect you and your family. Unfortunately, not all drivers are careful. Has a careless New York driver hurt you? Talk to a skilled New York car accident attorney with Finz & Finz, P.C. today to learn more about how we may be able to help you pursue compensation for your losses.