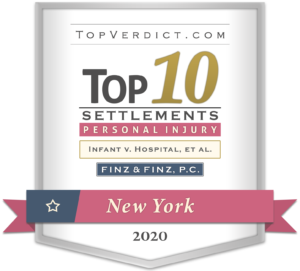 New York, NY – New York law firm Finz & Finz, P.C. obtained three of the top 20 personal injury settlements in the State of New York in 2020. TopVerdict.com, a site that recognizes law firms throughout the United States that have obtained the highest jury verdicts and settlements, reported that Finz & Finz, P.C. had the No. 9, No. 15, and No. 19 largest personal injury settlements in New York last year.
Top Verdict recognizes firms based on thorough research of court records, electronic submissions by lawyers, legal publications, and other reputable sources. Law firms and lawyers recognized by Top Verdict are awarded electronic badges and plaques confirming their accomplishment. Many firms only make a Top Verdict once in their history. The fact that Finz & Finz, P.C. notched three in one year is truly remarkable.
Finz & Finz, P.C.'s three entries in Top Verdict's Top 20 Personal Injury Settlements in New York in 2020 are as follows:
No. 9 – $2,252,352 in a birth injury case settled by attorneys Stuart L. Finz and Todd M. Rubin
No. 15 (tie) – $1,500,000 in a medical malpractice case settled by attorney CaraMia R. Hart
No. 19 – $1,200,000 in a medical malpractice case settled by attorneys Stuart L. Finz and Todd M. Rubin
These three settlements build on Finz & Finz, P.C.'s long tradition of securing maximum compensation for its clients. In total, the firm has secured over $1 billion on behalf of its clients throughout its 35-plus-year history, including a $24.5 million for a woman and child who were seriously injured in a truck accident – the second-largest truck accident settlement in New York's history.
The firm's success is the result of hard work, dedication, and always putting its clients first. The knowledge, skill, and resources of Finz & Finz, P.C. has enabled the firm to achieve the best results possible on behalf of its deserving clients.
About the Personal Injury Attorneys of Finz & Finz, P.C.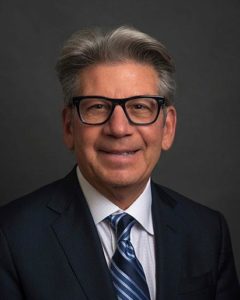 Stuart L. Finz, Senior Trial Attorney and CEO of Finz & Finz, P.C., has secured numerous multi-million-dollar verdicts and complex multi-million-dollar case settlements for clients. Mr. Finz manages all aspects of the firm's litigation practice, including Medical Malpractice, Defective Drugs, General Tort Liability, Products Liability, Toxic Exposure, and Appellate Law.
Todd M. Rubin, Senior Trial Attorney in the General Tort Liability Group at Finz & Finz, P.C., is committed to protecting the legal rights of injured New Yorkers. Mr. Rubin has obtained millions in settlements and verdicts on behalf of the firm's deserving clients. Since joining the Finz & Finz team in 2004, Mr. Rubin has successfully litigated hundreds of cases.
CaraMia R. Hart, Senior Trial Attorney in the Medical Malpractice Group at Finz & Finz, P.C.,  has been committed to litigating complicated medical malpractice cases to verdict throughout her accomplished career. She represents medical malpractice victims with an extraordinary and unique level of skill and compassion. Ms. Hart demands justice and gets results for her clients.
About Finz & Finz, P.C.
At Finz & Finz, P.C., our clients are always our top priority. Our New York personal injury lawyers are committed to fighting for our clients' best interests. You can count on our law firm to litigate all aspects of your personal injury, medical malpractice, or defective products case while you focus on your health and recovery. If you have been seriously injured in New York due to an accident, a defective product, or medical malpractice, call Finz & Finz, P.C. today at (855) TOP-FIRM for a free and confidential consultation.