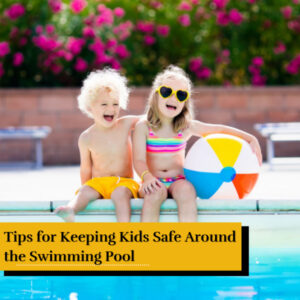 Going to the pool is a favorite activity for many families during the warm summer months. However, pool outings can quickly become tragic if someone fails to exercise adequate care and caution. According to the Centers for Disease Control and Prevention, drowning is one of the top causes of death for people under 30, and more children ages 1-4 years old die from drowning than from any other cause other than congenital anomalies. That's why it is crucial for parents, teachers, lifeguards, property managers, and property owners to understand how to keep children safe in and around swimming pools.
Swimming Pool Safety Tips
Heartbreaking studies show it can take as few as 20 seconds and as little as two inches of water for a child to drown. What's scarier, drowning children often go unnoticed because the initial signs are silent – people who are drowning don't yell or thrash around like they show in the movies. Thankfully, this type of tragedy can typically be avoided by taking a few basic precautions.
Pay attention: If you are responsible for a child, the most important thing you can do to keep them safe around pools is to keep your attention on them constantly. This includes preventative actions like:
Never leave a child unattended in or by the pool, even for a second
Make non-swimmers and weak swimmers wear life preservers, but don't rely solely on "water wings" or other flotation devices to keep your child safe
Avoid activities that take your attention away from the child, such as napping, reading, or texting
Make sure the child is always within arm's reach
Avoid alcohol and other substances, which can delay your response time if something happens
If you're with a group at the pool, designate a "water watcher" – take turns with other adults to ensure an adult is always watching the kids
Pair kids with a "buddy," such as a friend or sibling who can supplement (not replace) adult supervision
Hire a professionally-trained lifeguard to provide additional supervision if you have a pool party
Learn and teach basic skills: Some additional steps you can take to keep kids safe around pools and reduce their chance of drowning include:
Learn to swim if you don't know how already
Enroll children in swim lessons, so they can learn or improve their swimming skills
Learn life-saving skills, such as CPR
Teach children pool safety rules like don't swim without adult supervision, don't run by the pool, don't dive in the shallow end, don't push people in the water or pull them underwater
Don't forget sunscreen, since water isn't the only dangerous thing around the pool
Secure your property: As a homeowner, there are several things you can do to prevent drownings and reduce the chance of unsupervised children accessing your pool, such as:
Surround the pool with a fence that is at least four feet tall and which has a self-closing gate with latches that children can't reach; avoid fences that have footholds that kids can climb
Use childproof or out of reach locks on all doors and windows that lead from the house to the pool area
Install an alarm on any door or window in the pool area
Keep water rescue equipment like a buoy and life preserver on hand
Make sure pool drains are anti-entrapment and that drain covers aren't missing or broken, since children can get trapped in faulty drains
Regularly inspect pool equipment, including pumps and lights, to reduce the chance of electric shock
Cover the pool with a rigid top when it's not in use
Install an alarm that detects motion underwater
When the pool isn't in use, clear the pool and pool area of toys or other things that could attract children
If you're using a small inflatable or plastic pool, drain the water right after you use it, and don't leave it outside where it can collect rainwater
Who is Responsible If My Child Has Been Hurt?
While parents or other guardians are usually responsible for supervising their children while swimming, there are other parties who could share responsibility if an injury accident occurs at a public, amusement or water park, hotel, or private pool. The parties that could be held accountable for poolside accidents caused by negligence could include:
The property owner or manager
Pool service providers
Third-party maintenance companies
Pool equipment providers
Recovering compensation from another party for a swimming pool accident will require proving that the party owed the victim a duty of care, and failed to protect them from harm. You will also need to show that their negligence directly contributed to the accident and the resulting injuries.
Contact a New York Swimming Pool Accident Lawyer
Property owners and child supervisors have a responsibility to do all they can to prevent pool injuries. When they fail to do so, the results can be tragic, and the New York swimming pool accident lawyers at Finz & Finz, P.C. will be ready to help you seek the justice and compensation you deserve.
If your child was injured or died in a pool accident caused by someone else's negligence, you might be entitled to significant compensation. While no amount of money can change what happened, it could help you pay for medical bills and recoup other losses you never expected or planned for. To understand your legal rights and make a plan of action, schedule a free consultation with us by calling 855-TOP-FIRM or by reaching out to us online.