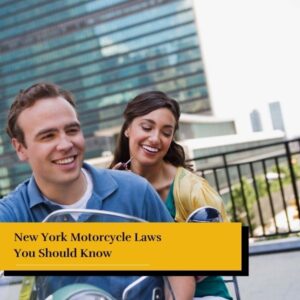 There is almost nothing like exploring New York on two wheels. From the city streets of the Five Boroughs to the beach trails of Long Island to the scenic byways of Upstate, everything is more exciting when seen from a motorcycle. However, before you gear up and hit the road, you should familiarize yourself with the motorcycle laws designed to keep you safe.
The legal team with Finz & Finz, P.C. wants you to be well-equipped for your motorcycle journey, whether it's to the office or someplace more interesting. From helmet laws to insurance requirements, these are the motorcycle law every biker in New York should know. 
New York Motorcycle Accident Statistics 
 Why is it vital to understand New York's motorcycle laws? Because you may find yourself in a potentially dangerous situation without knowing what to expect. New York's motorcycle laws protect riders and their passengers. And sadly, statistics from the National Highway Transportation Safety Administration show why they're so important. According to the NHTSA, motorcyclists are almost 28 times more likely to die in traffic accidents than occupants of passenger vehicles and four times likelier to get injured.
 Although the motorcycle-riding population in the state is relatively small, it's over-represented among fatal traffic accident victims. Statistics from a New York City Motorcycle Safety Study suggest only two percent of registered vehicles in the state are motorcycles. However, bikers account for 14 percent of traffic fatalities. A recent Governor's Traffic Safety Committee also finds that fatal motorcycle accidents are on the rise throughout the state.
New York Helmet Laws 
 One of the most important laws you need to be aware of in New York is the one that mandates helmets for all riders. New York law stipulates that all motorcyclists and their passengers must wear a USDOT-approved helmet. DOT-compliant helmets sold in the U.S. must have an identifying label on the back. The label should include the manufacturer, brand, model design, and the words "DOT, FMVSS No. 218 certified." DOT-certified helmets must meet all federal safety standards, unlike novelty helmets. 
 In addition to a USDOT-approved helmet, motorcycle operators must wear eye protection, even if the motorcycle has an attached windshield. Eye protection can include anything that protects the eyes, such as goggles or a face shield attached to a helmet.
 Beyond selecting a certified helmet and eyewear, riders and passengers should ensure that their safety gear fits properly. Consider your head shape, circumference, and style preferences when selecting a helmet. Helmets need to be snug-fitting but not tight. All helmets must also include a chin strap to keep the helmet in place in case of an accident. It's time to replace your helmet when there is visible wear or deterioration of the foam or padding on its interior or if you have recently gained or lost weight and notice a change in how your helmet fits. If you are involved in an accident or there are visible cracks or marks on your helmet, it is also time to invest in a new one. 
 It's a fact that helmets can save lives. The Centers for Disease Control and Prevention estimates helmets help reduce the risk of head injury by 69%. Wearing a helmet also reduces the risk of death by at least 37%. In one year, helmets helped save an estimated 1,872 lives across the U.S. Protect yourself and follow the law. Grab your helmet before you venture out onto the open road. 
New York Motorcycle License Requirements 
 What's in your wallet is almost as important as what's on your head. In New York, motorcycle operators must obtain a motorcycle operator's or junior operator's license, either a Class M or Class MJ. You can apply for a motorcycle operator's license at the New York Department of Motor Vehicles. Bring proof of age, identity, and residence so you can apply for the written motorcycle permit examination. 
 Upon completing and passing the written test, riders must then schedule a motorcycle road test. After passing the road test, you pay the applicable fees, and the state issues you a motorcycle license, generally within two weeks. If you have a valid New York driver's license, you can add the Class M designation by passing all requirements and visiting a DMV office within seven days of completing your road test. 
 That said, New York allows you to bypass the road test requirement if you complete a state-approved motorcycle safety course. The course must be completed in New York, as courses outside the state do not count. 
Motorcycle Registration, Inspection, and Insurance Requirements in New York 
 Unlike other motor vehicles in the state, motorcycle registration is only valid for one year rather than two. Every 12 months, you must allow the Department of Motor Vehicles to conduct a safety inspection of your motorcycle. An official NYS Motorcycle Inspection Station at select DMV offices can conduct an inspection. If you purchase a new motorcycle, dealerships are responsible for the initial safety inspection before delivery. Be aware that if you purchase a motorcycle in a private sale, you have ten days from the registration date to complete a motorcycle safety inspection. 
 You must also understand the limits of your motorcycle insurance coverage. New York subscribes to a no-fault insurance system, meaning drivers turn to their insurance company for compensation following an accident. However, this system does not apply to motorcycle operators in the state, who must still carry liability insurance meeting state-mandated minimums.
Other New York Motorcycle Laws and Regulations 
 New York also outlines other requirements for motorcycle riders and their passengers. Some of these laws and regulations stipulate that a bike must have:
 A designated seat for passengers if the operator transports others
A horn or other audible warning device Bikes must have brakes on both wheels

At least one mirror mounted on a handlebar

Handlebars no higher than shoulder height to the operator

Approved and operational headlights, rear lights, a stop lamp, and a license plate lamp. 

At least one red reflector on the rear of the vehicle and directional signals if the motorcycle is a 1985 model or newer.
Additionally, mufflers with removable baffles are prohibited.
Contact an Experienced New York Motorcycle Accident Attorney
While these rules are designed to keep you safe, nothing can completely eliminate the threat of an accident, especially when other motorists behave carelessly or recklessly. If you've been hurt in a motorcycle accident someone else caused, contact the legal team at Finz & Finz, P.C. for help. Our experienced New York motorcycle accident lawyers can review your situation and outline your options for pursuing maximum compensation for your injuries. 
Contact our New York office today to arrange a free initial case review.