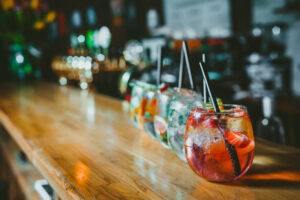 As Thanksgiving rapidly approaches, so does "Blackout Wednesday," or the Wednesday before Thanksgiving. In the United States, Blackout Wednesday refers to binge drinking and heavy drug use on the night before the Thanksgiving holiday.
While it can be fun to enjoy a night out drinking with friends and family before the holiday, statistics show that Blackout Wednesday is a particularly dangerous tradition that results in many fatal drunk driving crashes.
If a drunk driver has injured you, don't let their poor decisions ruin your life and your future. Contact the New York car accident attorneys at Finz & Finz, P.C. today to discuss your case and learn about how we might be able to help you pursue the compensation you deserve. We offer a free, no-risk consultation to all prospective clients.
Blackout Wednesday Accident Statistics
According to the U.S. Department of Transportation, there were 135 impaired drivers involved in fatal crashes on Blackout Wednesday from 2015 to 2019. On top of that, more than 800 people died in drunk driving-related crashes throughout the Thanksgiving holiday across that same five-year period.
The Department also notes in its 2021 Thanksgiving Buzzed Driving Fact Sheet that during the 2019 Thanksgiving holiday, from Wednesday evening to early Monday morning, more than four times as many motorists involved in deadly collisions were alcohol-impaired during the nighttime hours as opposed to daytime.
Because the risk of being involved in an accident with an impaired driver increases significantly over the holidays, it's essential to know how to prevent buzzed and drunk driving in the first place.
Tips To Prevent Impaired Driving
In its Buzzed Driving Fact Sheet, the Department of Transportation recommends that people who are going out to celebrate should plan ahead. Here are some tips you should follow to prevent impaired driving accidents:
Assign a designated driver – It's never acceptable to drink and drive. If you decide to go out and celebrate on Thanksgiving Eve, be sure that you assign a designated driver before leaving. The designated driver should not drink at all. Even one drink can lead to impaired driving.
Use public transportation – If you don't have a designated driver, using public transportation or rideshare/taxi services is another good option, especially here in New York City. If you have access to the subway or a service like Uber or Lyft, then you may not need to assign a designated driver.
Be on the lookout for impaired drivers – If you notice a motorist who appears to be driving while impaired, contact local law enforcement by calling 911. Report the incident to the authorities right away.
Don't let your friends or family drive drunk – If your friend or a family member has been drinking and attempts to drive themselves home, don't let them. Take their keys and suggest an alternate plan, such as using public transportation, a taxi, or a rideshare service.
Effects of Alcohol On a Driver
According to the National Highway Traffic Safety Administration (NHTSA), alcohol affects driving ability in myriad ways. Some of the common ways that alcohol impacts a motorist's ability to drive safely include:
Judgment – Alcohol and drug use severely impair a person's ability to judge traffic situations. When an impaired motorist is confronted with a traffic-related hazard, they may exercise poor judgment, leading to an accident.
Vision – Of the five senses, vision is most important when a motorist is driving. Alcohol and drugs can cause blurry vision or result in "double vision." Impaired drivers may also find it difficult to judge the distance between themselves and other motorists. A miscalculation could result in a terrible accident.
Reaction time – Alcohol and drug use can also slow down a driver's reaction time. If traffic suddenly slows down or stops, an impaired driver may not react quickly enough to stop before colliding with traffic in front of them.
Ability to distinguish between colors – Drug and alcohol use can also affect a person's ability to differentiate between various colors. If a motorist cannot perceive different colors, they may misread traffic signals and signage, which could result in an accident. If a driver cannot tell that a traffic light is red, for instance, they may try to cross an intersection when it is unsafe to do so.
For more information about the effect that alcohol and drugs have on driving, check out the NHTSA's page on drunk driving.
Signs of an Impaired Driver
Drunk driving remains a huge problem in the United States, which is why it is more important than ever to know how to spot an impaired driver. If you encounter an impaired driver on the road, maintain a safe distance from the driver and call law enforcement.
Some of the common signs of an impaired driver include:
Rapid acceleration and deceleration
Following too closely
Weaving across different lanes of traffic
Driving off-road or anywhere other than a roadway that has been designated for cars
Nearly striking a curb, an object, or another car
Random braking or suddenly and repeatedly stopping for no apparent reason
Drifting across lanes of traffic
Driving on top of lane markings
Suddenly swerving
Delayed reaction to traffic signals
Driving on the wrong side of the road or highway
Failing to use headlights after dark
By familiarizing yourself with the signs of impaired driving, you can take steps to protect yourself and others from becoming a DUI accident victim.
Did a Drunk Driver Injure You This Holiday Season? Contact Us Today
If you were injured in an impaired driving accident on Blackout Wednesday, contact the experienced drunk driving accident attorneys at Finz & Finz, P.C. on Long Island to discuss your case and your legal options. Contact us today at 855-TOP-FIRM or contact us online for a free, no-obligation consultation.