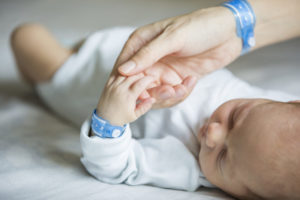 Unfortunately, medical malpractice can lead to birth injuries that may have been avoidable. Brachial plexus injuries are among the most common birth injuries to result from medical malpractice. These injuries prevent babies from properly using their arms and shoulders. The brachial plexus is a bundle of nerves that extends from the spinal cord and controls the neurological function in the arms, shoulders, and hands. Brachial plexus injuries are caused by damage to those nerves. These injuries most often occur during birth with a condition known as shoulder dystocia.
Brachial plexus injuries can have devastating long-term effects on a child's health. Depending on which nerves were affected during the injury, Erb's palsy, Klumpke palsy can develop.
Thousands of babies suffer these two types of conditions related to brachial plexus injury:
Erb's palsy happens when birth trauma affects the primary nerves that supply the movement and feeling to arms and shoulders. This type of injury refers to damage in the upper plexus. The paralysis can be partial or total.
Klumpke palsy refers to damage in the lower plexus. Klumpke's palsy can also lead to weakness or paralysis that results from stretching the nerves during delivery. Infants with Klumpke's palsy don't have a full range of movement in their hands.
At Finz & Finz, P.C., our New York birth injury attorneys have built a track record of successfully handling cases involving brachial plexus palsy. With decades of experience in handling these claims, our lawyers can find whether your doctor was negligent when delivering your child and whether you are entitled to compensation. Call 855-TOP-FIRM today for a free birth injury case evaluation.
How Do Brachial Plexus Injuries Happen?
While brachial plexus palsy can be the result of high-impact activities such as contact sports, they also happen during childbirth – sometimes due to a failure to provide the standard of care. During childbirth, there are a number of ways in which the brachial plexus may be injured.
Brachial plexus injuries can be caused by:
The infant's head or neck pulling to the side during delivery
The infant's shoulders being stretched during delivery
Incorrect use of forceps, extraction pump, or other tools
Excessive pressure on the baby's head
During a breech birth, too much pressure is put on the baby's arms
Failure to perform a Caesarean section (C-section) when the baby is in distress
Health care professionals have a duty to take all precautions necessary to make sure brachial plexus injuries do not occur. If they were negligent and their negligence or recklessness led to the baby suffering an injury, they need to be held accountable. The family of the infant deserves financial compensation when this occurs.
Classifying Brachial Plexus Injuries
The four main types of brachial plexus injuries are:
Neurapraxia – This type of injury is the mildest of the brachial plexus injuries. It's a result of the nerve getting stretched. This injury has a good prognosis of recovery.
Neuroma – Scar tissue forms around a damaged nerve, causing pressure on the brachial plexus as the nerves attempt to heal. Neuromas could require surgery to remove scar tissue.
Rupture – A rupture means the nerve has been at least partially torn in a location other than the spinal cord.
Avulsion – This is the most severe type. With an avulsion, the nerves tear completely away from the spinal cord, causing severe pain. It can be difficult for avulsion injuries to fully heal, even with physical therapy and surgery.
Signs and Symptoms of Brachial Plexus Palsy
Brachial plexus injury pain can be mild to severe depending on the extent of the injury.
Babies with brachial plexus palsy may exhibit the following signs and symptoms:
Affected arm not moving normally
Muscles in the arms starting get smaller
Limited feeling in the affected arm.
Inability to control or move the shoulder
A weakened grip
Bent elbows because the joints are tight
Difficulty moving arm, wrist, or hand
Burning pain in the shoulder or arm.
Numbness or loss of feeling in arm or hand
Issues with the positioning of the shoulder due to muscle weakness
Complete lack of movement and feeling in arm, shoulder, or hand
Severe pain
How Are Brachial Plexus Birth Injuries Treated?
Treatment for brachial plexus palsy depends on the extent and seriousness of the injury. If your child has a mild injury, the nerves could repair themselves in a short matter of time. The majority of babies born with brachial plexus palsy will recover without the need for treatment. The recovery could take few months or a few years. If the injury is severe, and the nerve has been severed from the spinal cord, surgery may be needed. After surgery, the infant will hopefully be able to move their arm.
Physical therapy may also be required. This may begin when the infant is around three weeks old and could include exercises for the hand, shoulder, elbow, and wrist. Range of motion exercises will prevent the joints from becoming stiff.
Contact a New York Birth Injury Attorney
Brachial plexus injuries often involve a difficult road to recovery. Treatment options can be costly, especially in cases where surgery and physical therapy are necessary. Insurance may not cover the medical bills that you could incur.
If your child's brachial plexus injury was caused by the negligence of a doctor, nurse, or another medical professional, you need to speak with an experienced New York birth injury lawyer as soon as possible. The legal team at Finz & Finz, P.C. on Long Island is ready to help you build a strong medical malpractice case. From collecting medical records and consulting with expert witnesses to negotiating a fair settlement, we'll be with you every step of the way. Call 855-TOP-FIRM for a free and confidential consultation.