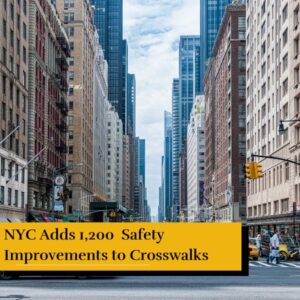 Mayor Eric Adams and the NYC Department of Transportation Commissioner Ydanis Rodriguez announced that the administration is meeting and exceeding its goal of improving the safety of 1,000 intersections. NYCDOT finished safety upgrades on over 1,200 intersections as of October 30.
The achievement is a significant success for the Adams administration in its first year, which also invested $900 million to complete the NYC Streets Plan goals and turned on speed cameras 24/7.
Mayor Adams and Commissioner Rodrigues made their announcement on 8th Avenue in the Midtown Theater District, where the administration increased cycling and pedestrian space in an effort to make one of the city's biggest tourist centers safer.
A data-driven approach helps the administration make city streets safer by focusing on intersection safety. Car accidents at intersections account for 79% of pedestrian injuries and 55% of pedestrian fatalities. 
Plans to Keep Pedestrians Safe in New York
Mayor Adams initially announced his plan to improve pedestrian safety on January 19, 2022. At the time, the mayor, along with Commissioner Rodriguez and New York Police Department (NYPD) Commissioner Keechant Sewell, discussed investments and actions the administration was taking to improve the safety of New York pedestrians.
The DOT planned to improve the design of 1,000 intersections by using raised crosswalks, better traffic signals, and other visibility and space measures for pedestrians. It bested its goal by some 20 percent.
Failure to yield is a common traffic violation that endangers the lives of cyclists and pedestrians at intersections. NYPD pledged to enforce failure to yield laws and double enforcement efforts from 2021.
Officers were also encouraged to enforce a new DOT traffic rule for violations at over 1,200 intersections not governed by a stop sign or traffic signal. The rule requires cyclists and drivers entering an intersection to stop instead of simply yielding, so that pedestrians can cross the street completely before vehicular traffic resumes.
The DOT also launched a public awareness campaign on social media called "Stop. Let Them Cross." The goal was to raise awareness about the new rule at uncontrolled intersections. The message also addressed the importance of drivers slowing down and watching for pedestrians at New York City crosswalks and intersections.
The DOT's Approach to Improving Pedestrian Safety
The DOT used a varied and proven road design toolkit to address safety issues at intersections and create solutions to protect vulnerable individuals, such as pedestrians. The department identified the areas citywide most in need of improvement and the road users likeliest to get hurt or killed without taking necessary safety measures.
The safety methods DOT focused on this year include:
All-way stops

 – The DOT added new stop signs to many intersections without traffic signals. It focused on intersections by schools to improve the flow of traffic for child pedestrians. All-way stops are at over 350 intersections so far this year.

Bike corral daylighting

 – The DOT's bike parking initiative aims to daylight 100 intersections with bike corrals this year. Bike corrals improve visibility and prevent drivers from turning too quickly or cutting corners on roadways. The DOT is on track to meet its goal, with 32 already completed and many more set to be installed.

Doubling the turn-calming program

 – The DOT aims to double its turn-calming efforts. It plans to add low-level curbs and other vertical elements at 200 intersections by the end of the year to force drivers to turn at lower speeds. So far, the DOT has completed its efforts at 100 intersections.

Intersection-focused street improvement projects

 – Vision Zero's priority is redesigning streets where serious injuries and fatalities occur. The DOT completed individual Street Improvement Projects at over 200 intersections, including the intersection at 8th Avenue and West 46th Street, where the Mayor and Commissioner made their announcement.

Raised crosswalks

 – Mayor Adams and Commissioner Rodriguez announced in January their plan to construct 100 raised crosswalks at curb level annually. The DOT and the New York City Department of Design and Construction partnered on this program to build forty raised crosswalks in 2022. This record number is nearly seven times higher than the raised crosswalks constructed last year.

Signal improvements

 – The DOT used signal improvement tools, including left-turn signal treatments, signal installations, and pedestrian head-starts called Leading Pedestrian Intervals (LPIs). The DOT installed LPIs at over 500 intersections around the city. These devices are effective at reducing accidents by up to 60%. More than 380 intersections now contain Accessible Pedestrian Signals for people with vision problems.
Compensation for Injuries in a Pedestrian Accident
If a driver injures you while you are on foot, their state-mandated personal injury protection (PIP) coverage applies to you. PIP covers expenses related to traffic accidents, such as ambulance services and prescriptions. The maximum available limit on a policy is $50,000. PIP also covers up to 80% of lost wages, with a maximum of $2,000 monthly for up to three years after the crash. PIP reimburses necessary and reasonable expenses, such as household assistance, up to $25 daily for no more than a year after the accident.
You can file a liability claim with the at-fault driver's auto insurer if you exhaust their PIP limit and meet the serious injury threshold. The state defines a "serious injury" as one that results in any of the following:
Permanent consequential limitation of use of a body organ or member

Permanent loss of use of a body organ, member, system, or function

Loss of a fetus

A fracture

A significant limitation of use of a body system or function;

A non-permanent medically determined impairment or injury preventing completing material acts that constitute usual and customery daily activities for at least ninety days

Dismemberment

Death
The compensation you receive in a liability claim might cover your:
Emotional distress

Medical bills

Loss of enjoyment of life

Scarring or permanent loss of limb

Pain and suffering

Lost wages

Lost earning capacity

Damage to personal property
Speak to an Experienced Pedestrian Accident Lawyer Today
Finz & Finz, P.C. have decades of experience advocating for the rights of injured New Yorkers. If you sustained injuries in a pedestrian accident in New York, call us at (855) TOP-FIRM today for your free consultation.