Long Island, NY Car Accident Lawyer - Serving Suffolk County & Nassau County

With about 143 million drivers on U.S. roads and highways, car accidents are certain to happen, especially in the often hectic traffic conditions on Long Island. A car accident can affect all aspects of your life – your health, your income, your family, and your leisure time.
Has someone else's negligence harmed you in a car accident on Long Island? The experienced Long Island car accident lawyers at Finz & Finz, P.C., can help you recover the compensation you're owed. Our firm features a team of highly experienced car accident attorneys. We have been helping clients recover from car accidents for more than 35 years.
Finz & Finz, P.C., is a nationally recognized personal injury firm with decades of experience handling car accident cases, and our legal team includes four former judges. Our vast experience, coupled with our passion for helping those who have suffered following a car accident, has resulted in record-setting results for our clients.
At Finz & Finz, P.C., our car accident attorneys on Long Island have obtained multi-million dollar results for people injured in motor vehicle accidents on Long Island and throughout New York.
Our Long Island car accident victories include:
$1.9 million settlement for a patient who was being transported from a hospital to rehab when the ambulance crashed into an overpass.
$930,000 settlement on behalf of a forty-three-year-old man who was rear-ended on the Long Island Expressway.
$650,000 settlement for a passenger in a cab when another car driven by a New York driver hit our client's car causing the car to flip over.
$650,000 settlement for a driver who sustained a herniated disk when his car was hit head-on while stopped at a red light.
Contact us now by phone or online for a free discussion about your situation and we will explain your best legal options for seeking compensation.
What Are Your Rights After a Car Accident in Long Island?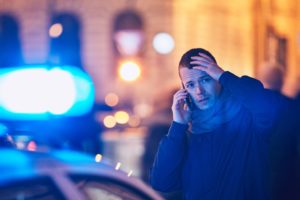 As many as 4.4 million people are injured in car accidents per year. Despite better safety regulations and advanced safety features in passenger cars and trucks, car accidents remain a threat to the health and well-being of motorists and their passengers.
If you are in a car accident on Long Island, New York law requires you to stop at the scene of the accident — whether the accident involves a pedestrian, a moving car, a parked car, or someone's property. If you leave the accident scene, you may be charged with hit-and-run and face severe penalties. If it is a significant accident, call 911. A police officer and emergency medical technicians (EMT) will respond to the accident scene if people have been injured.
You should provide your information to others involved in the crash. That information should include:
Your name and driver's license number
The vehicle identification number of the car you are driving
The name and address of the car's owner
The name and address of your insurance company
Your insurance policy number
If you were injured in a car accident, the driver's insurance company may contact you. The insurer may talk with you about your accident. Anything you say to the insurer can be used to limit or deny your claim. Consult with an experienced Long Island personal injury lawyer – and don't sign anything. Do not answer any questions from any insurance company and refer all inquiries to your attorney.
You have the right to hire a car accident attorney after an auto accident if you were injured. You could be owed significant compensation if your injuries were caused by someone else's carelessness or neglect. It's always wise to protect your rights. Consider hiring a qualified and knowledgeable Long Island car accident attorney to represent you.
What Information Should I Collect After a Car Accident on Long Island, NY?
The aftermath of a car crash can be a time of confusion and shock.  Even so, be sure to gather vital information at the scene, including:
General Information
Date and Time
Location
Direction of Travel
Weather and Road Conditions
Police Information
Accident Report Number
Police Officer's Name
Shield Number
Precinct Number
Other Vehicle Information
Owner's Name and Address
Driver's Name and Address
Insurance Company Name
Make and Model of Vehicle
License Plate Number
Vehicle ID
Witness Information
Name
Address
Telephone Number
How Long Do You Have to File a Car Accident Claim in New York?
Insurance companies require you to immediately report a car accident. New York law gives you three years from the date of the accident to commence a lawsuit against the other party.
With New York's no-fault laws, you must file a damage claim with your own car insurance company. No-fault insurance is designed to cover medical bills, out-of-pocket expenses, and lost wages. The law allows you to step outside of the no-fault system only in the event of serious injury. With certain exceptions, the no-fault law does not allow compensation for pain and suffering.
Multiple deadlines exist for a claim of lost wages. The Long Island car accident lawyers at Finz & Finz, P.C., can advise you on how and when to go about making that claim.
Our personal injury lawyers can listen to the details of your car accident and determine whether you may have a personal injury case. Please bring as much information as you have to your initial consultation. The accident information should include the police report, your medical records, proof of lost income, and the names and addresses of any witnesses. If you do not have the police report, we can obtain it on your behalf.
How Can a Long Island, NY Car Accident Lawyer Help?
Processing car accident claims can be difficult. It is important to contact a Long Island lawyer experienced in car accident cases as soon as possible.
Aggressive and distracted driving are common causes of road accidents, as well as talking, eating, drinking, and using a cell phone use.
Common injuries from a car crash include brain trauma, injuries to the spine, neck injuries, and fractures. Those injuries may leave victims with severe pain and suffering, disability and discomfort.
Whether you have been injured in a car accident, truck accident, or any other motor vehicle accident, you may need compensation for your medical bills, lost wages, and other expenses. If another driver was at fault, his or her insurance provider may try to limit or deny your claim or pay you far less than you deserve. Insurance companies know our firm, either by prior encounters over our 35-year existence or by the reputation we have earned, and they know that we are always fully prepared to fight to the end for our clients. Our aggressive stance provides our clients with the financial compensation that they need and deserve. That's why you need an experienced car accident lawyer from Finz & Finz, P.C., on your side.
Our firm has significant resources to handle complex motor vehicle accident cases. We have handled cases involving spinal cord injuries, brain injuries, and other life-changing injuries. Our firm also represents family members who have lost loved ones in fatal motor vehicle accidents on Long Island in wrongful death claims. Our experienced injury attorneys know how to aggressively pursue the compensation you need in this difficult time.
Contact a Long Island, NY Car Accident Lawyer Today
Were you hurt in a car accident on Long Island? The injury lawyers at Finz & Finz, P.C., on Long Island can help you seek justice and recover the compensation you deserve. Contact our car accident lawyers toll-free or you simply fill out our Free Car Accident Case Evaluation form.