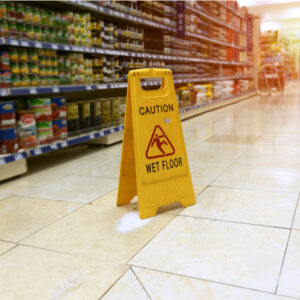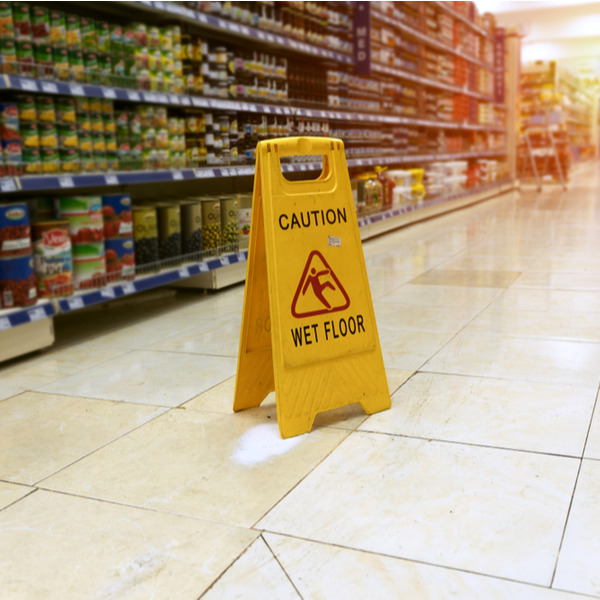 Supermarkets are full of hazards that can cause severe injuries if the store's staff fails to notice and address them promptly. Liquid spills are a common type of hazard in supermarkets. Spills are often caused by leaking coolers or spilled food and drink. Standing liquid can also cause slip and fall accidents outside grocery stores when the store fails to clear ice and snow from walkways and parking lots.
If you were injured due to a spill in a New York supermarket, you could hold the grocery store owner liable for medical expenses, lost income, pain and suffering, and other losses. To bring a successful slip and fall claim, you need experienced legal representation. The slip and fall accident attorneys at Finz & Finz, P.C. have the necessary skills to help you hold the negligent property owner accountable.
What to Do After a Slip and Fall Accident in a Supermarket
If you were injured after slipping on a spill in a local supermarket, there are several steps you should take directly after the accident to preserve the integrity of your claim and protect your rights:
Report the accident – You should report the accident to store management right away. When you report the accident, the supervisor may create an accident report. You should request a copy of this report for your records.
Collect evidence – If you can, you should collect as much evidence at the scene as possible. Use your phone to take photos of the scene from various angles. Make sure you capture the hazard that caused you to slip. You should also take pictures of any injuries you sustained. Finally, if any nearby people witnessed the accident, you should ask them for their contact details. These witnesses could provide a statement on your behalf to bolster your claim. Witness testimony is a vital piece of evidence because witnesses can offer an objective perspective of the accident.
Request store surveillance video – If possible, you should ask whether the incident was caught on tape. If so, the recording could provide irrefutable evidence of the grocery store's liability. The grocery store management might be reluctant to hand over any recordings that implicate them, so you might need to get a slip and fall accident attorney involved.
Seek medical attention – You should seek prompt medical attention. Even if you "feel fine," you could have sustained injuries you don't yet know about. Some injuries, including internal injuries, are not immediately apparent. A physician will be able to detect these injuries. Most insurance companies also require that you be seen within 72 hours after an accident. If you don't get evaluated within that time frame, the supermarket's insurance company could argue that your injuries resulted from a separate accident and deny your claim.
Gather documents – Put together a file of all important documentation related to your case. Gather hospital bills, physical therapy expenses, doctor's visit bills, prescription drug receipts, medical records, witness contact information, the accident report, and more.
Keep a pain journal – You should maintain a daily diary in which you discuss how you are feeling physically and emotionally throughout your recovery. An attorney can use this document as evidence of pain and suffering, which you can be compensated for.
Avoid posting on social media – Don't discuss the accident on social media or in any online public forum until your case has been settled or resolved. Remember: the insurance company is not on your side. They could use anything you say against you to reduce or deny your claim, so exercise caution.
Finally, it is crucial to consult with a seasoned New York slip and fall accident lawyer as soon as possible after the accident. An attorney will have the resources to conduct a thorough investigation of the accident, identify the liable party, gather evidence to support your case, document losses you suffered, and aggressively pursue compensation on your behalf.
 Proving Liability in a Supermarket Slip and Fall Accident
In general, supermarket owners are required to ensure that the property is safe for customers. If supermarket staff fails to eliminate a liquid spill, and then you get injured, you can hold them liable.
To prove liability, you'll need to establish negligence. The elements of negligence include:
Duty of care – First, you need to establish that as a lawful visitor to the supermarket, the property owner owed you a duty of care to prevent you from being harmed.
Notice – Next, you'll need to show that the grocery store's staff was negligent in some manner. For instance, if staff knew that a cooler was leaking but failed to repair the cooler and clean up any pooled water, that would be considered negligence. Even if the supermarket claims to have had no knowledge of the spill, they could still be considered negligent if they reasonably should have known based on their usual standard of care.
Hazardous condition – Third, you need to connect the supermarket's negligence with your injuries. You will need to establish that a dangerous condition existed and that because supermarket staff didn't eliminate it, you were harmed.
Damages – Lastly, you will need to demonstrate that you suffered compensable damages due to the accident. Common types of compensable damages include medical expenses, lost wages if you had to take time off work, personal property damage, and non-financial damages like pain and suffering.
Depending on the circumstances, proving liability can be challenging. The supermarket could withhold vital evidence you need to prove your case, or their insurance company could try to shift blame to you. That's why it is imperative to hire a slip and fall accident attorney to handle your case.
Contact Finz & Finz, P.C.
If you were hurt because of a spill in a supermarket or smaller grocery store, contact the New York slip and fall accident attorneys at Finz & Finz, P.C. We have what it takes to help you hold the at-fault party accountable for their negligence. Reach out today for a free consultation.