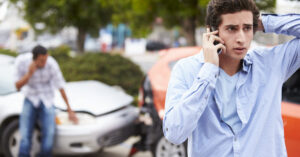 If you were injured in a car accident in Long Island, it is natural to be concerned about whether or not you could recover compensation from the other party for your medical bills, vehicle damage, and other losses. You might also feel that your actions contributed to the crash, and might be afraid that you won't be able to seek compensation since the accident was partially your fault.
Fortunately, New York is a "pure comparative fault" state, meaning damages are distributed according to the proportion of fault you share for the accident. Your attorney will work to determine who was responsible for the accident and help you assess the value of your injuries and losses.
Because New York is a no-fault state, your initial treatment and expenses should be paid by your own auto insurance company, regardless of who was to blame for the accident. If your expenses are greater than the limits on your insurance policy, you may pursue compensation from the at-fault party's insurance company. If you can't reach a suitable settlement, it's possible to take the responsible party to small claims court for damages up to $3,000. You could also take them to town or village court if the amount is less than $5,000.
If your injuries met the serious injury threshold in New York, you might be eligible to file a lawsuit with your local Long Island Supreme Court. Nassau and Suffolk County each have their own Supreme Courts. Your attorney could advise you about the type of claim you have, and they will know where to file your lawsuit.
You have suffered a "serious injury" in the accident if your injuries result in costs exceeding $50,000. The statute defines a serious injury as:
An injury or impairment that a doctor determines will keep you off work for at least ninety days in the six months right after the accident
Severe impairment of a bodily function or system
Permanent loss of use of a body part, organ, system, or function
A permanent significant limitation on the use of a body part or organ
Loss of an unborn child
Broken bones
Disfigurement
Amputation
Death
In New York, a wrongful death lawsuit can only be filed by the representative of the deceased's estate. New York law also governs who can benefit from the proceeds of a wrongful death action. Those parties include the spouse, children, and parents of the deceased. An experienced wrongful death attorney from Finz & Finz, P.C. can explore your options with you if your loved one was killed in an accident caused by someone else.
Other laws you need to know about are the statutes of limitations. When you file a lawsuit for a personal injury claim in New York, you must file your claim within three years from the date of the accident. If you miss the deadline, the court is likely to dismiss your case, and you will lose your opportunity to recover compensation for your injuries and losses.
There's a statute of limitations governing the filing of a wrongful death, claim too. That time period is just two years from the date of death.
Your attorney will work to determine who was responsible for the accident and help you assess the value of your injuries and losses. You'll file your lawsuit against the responsible party, and you'll demand compensation for the total value of your losses.
New York is a "pure comparative fault" state, meaning damages are distributed according to the proportion of fault you share for the accident. If you shared fault for causing the accident, the court will determine what percentage of the fault you share. These assignments of fault can reduce the damages paid to each party. If you are assigned 30 percent responsibility for the accident, the most you can obtain in compensation is 70 percent of your total losses. In other words, if your losses equal $100,000 and the court finds you 30 percent responsible, you will only be able to obtain $70,000 for your damages.
What type of compensation can you get after being injured in an accident that wasn't all your fault?­ You can receive money for any losses you incurred as a result of the injuries you received in the crash. This could include money for:
Medical expenses, past and future
Lost wages, past and future
Property damage
Disability or disfigurement.
Pain and suffering
Emotional distress, anxiety, depression, etc.
Transportation expenses to get to doctors' appointments, medical procedures, and therapy
It is important to keep track of all your accident-related expenses and always get receipts and records. These records are an important part of calculating damages.
If you are considering filing a lawsuit, here are some steps you could take:
First, notify the authorities. Determine whether you're injured and need an ambulance; advise the 911 operator if you do.
Collect as much evidence as possible at the accident scene itself. Everyone has a camera now, so take lots of pictures of all the damage to the vehicles, the road conditions, your injuries, if possible, and anything else relevant to the accident.
Get the ID and insurance information of all drivers who were part of the accident. Get phone and email information from all witnesses, and be sure to contact the witnesses to confirm their information.
Take notes of any conversations with witnesses, and write down all the details about the accident that you can remember.
Hire an experience Long Island car accident attorney to represent you.
Injured in a Car Accident in Long Island? Call Finz & Finz Today
Finz & Finz, P.C.'s has conveniently-located offices in Manhattan and Mineola, Long Island to serve you if you've been injured in a car accident. Our attorneys work on a contingency-fee-basis, which means we won't charge you anything until we win your case. Call us at 855-TOP-FIRM or reach out to us online to schedule a free case evaluation today.